BY KS NEWS DESK
Srinagar, July 17: The Jammu and Kashmir Entrepreneurship Development Institute (JKEDI) and The India Network jointly commenced a two-day Startup Leadership Summit at Sempora, Pampore. The summit's primary objective is to foster a strong environment for entrepreneurship and innovation in the Union Territory. Empowering J&K Startups: Com Secy launches JKEDIs 2-Day startup leadership summit
Commissioner Secretary, Industries and Commerce, Vikramjit Singh (IPS) inaugurated the event and gave an insightful address. "The government of J&K is going to be an enabling factor and facilitate, guide, mentor startups in J&K. The UT is embarking into a new phase of certainty and stability with lots of opportunities and we are committed to enrich and empower this ecosystem so that an entire society will benefit from it," said Vikramjit Singh.
Ajaz Ahmad Bhat (IAS), Director, JKEDI gave an enthusiastic welcome address, setting the tone for event. "The summit will cover essential topics such as financial planning, marketing strategies, legal and regulatory frameworks, and access to funding opportunities. Furthermore, the event will emphasize the significance of innovation and the utilization of emerging technologies in driving business growth. JKEDI is always available for entrepreneurs and will work towards creating a sustainable startup ecosystem in J&K," he stated.
The event was held under overall guidance of Shri Manoj Sinha, Hon'ble Lieutenant Governor of J&K. Entrepreneurs from across Jammu and Kashmir gathered to participate in this summit. The summit featured a distinguished lineup of industry experts and successful entrepreneurs who shared their insights and expertise to empower aspiring and existing entrepreneurs.
Sonia Khurana, the Founder and CEO of Wyn Studio, took to the stage to discuss the essence of storytelling in entrepreneurship. Her session, titled "Kahani Kya Hai" (What's the Story), will explore the power of storytelling and its impact on building a successful startup.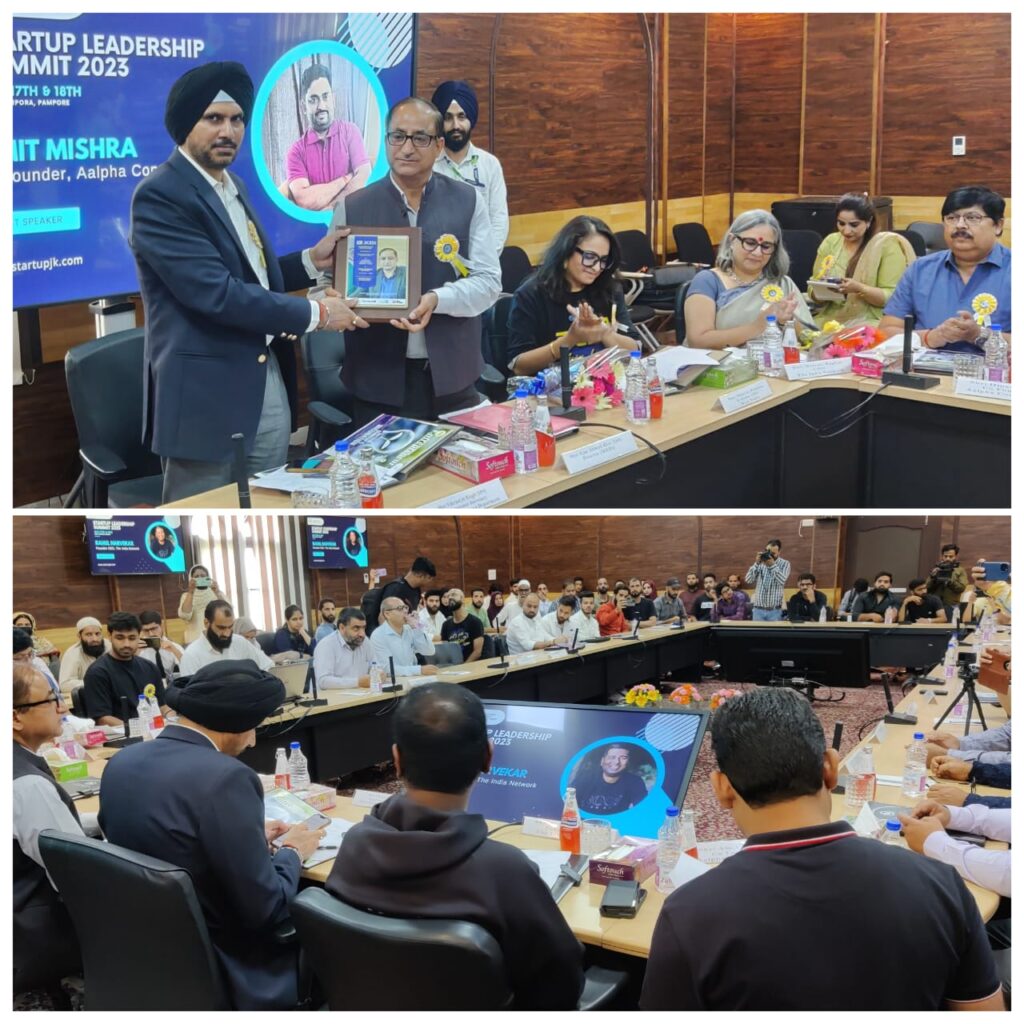 Rahul Narvekar, the Founder and CEO of The India Network, shared his extensive experience and guided participants on how to build a startup from scratch. His session provided valuable insights and practical strategies for turning entrepreneurial visions into thriving businesses.
Dinesh Singh and Amit Mishra, Co-founders of Alpha Consultants shared their expertise in business consulting and financial management to educate attendees on the intricacies of generating funding for their ventures. The session offered invaluable guidance and strategies for securing investment opportunities.
HimaniBhagat, the Chief Operating Officer of The India Network, talked about her strategic expertise and operational acumen to the summit. Her session will focus on the various avenues and approaches entrepreneurs can explore to access funding for their startupendeavors.
The two day summit will also feature interactive pitching sessions, providing entrepreneurs with the opportunity to present their business ideas and proposals to a panel of Angel Investors from diverse regions of the country. These investors will offer valuable feedback, guidance, and potentially investment opportunities to promising entrepreneurs.
In addition to the expert sessions and pitching sessions, participants will have the chance to engage with seasoned industry professionals, successful entrepreneurs, and subject matter experts. These individuals will share their experiences, provide mentorship, and offer guidance on various aspects of entrepreneurship.
The JKEDI Startup Leadership Summit promises to be an enriching and empowering experience for all participants, equipping them with the knowledge, skills, and resources necessary to excel in today's dynamic and competitive business landscape.