BY KS NEWS DESK
SRINAGAR, JULY 27: The revered Amarnath Yatra-2023 has achieved a momentous milestone, surpassing the total number of pilgrims from the previous year. This year's Yatra has been distinguished by its seamless arrangements, unwavering services, and meticulous management, garnering widespread acclaim and nurturing a sense of harmony among people hailing from diverse backgrounds. Amarnath Yatra Surpasses Previous Year's Numbers: A Successful Pilgrimage Amidst Unity & Praise
Today a total of 9,150 yatries have had the privilege of performing darshan at the sacred Holy Cave, contributing to the cumulative figure of 369,288. This surpasses last year's total of 365,721, signaling a significant increase in the number of devotees undertaking this holy pilgrimage.
The resounding success of Amarnath Yatra-2023 can be primarily attributed to the impeccable arrangements orchestrated by the administration. Every facet of the Yatra, from the provision of langar services to healthcare facilities, sanitation, transportation, and security measures, has been meticulously managed to ensure unparalleled convenience for the pilgrims. The seamless execution of these arrangements has led to a surge in the influx of devotees who are eager to embark on the spiritually enriching journey, and they have expressed their deep appreciation for the well-coordinated efforts.
Beyond the spiritual significance, the Yatra has also witnessed the arrival of distinguished personalities from various walks of life, renowned badminton player Saina Nehwal, and Bollywood actress Sara Ali Khan. This diverse gathering serves as a testament to the universal appeal of the Amarnath Yatra, attracting individuals from all corners of the globe, united in their reverence for this sacred pilgrimage.
The Amarnath Yatra-2023 has also witnessed a significant increase in the number of foreign pilgrims visiting the holy shrine. The pilgrimage's allure extends beyond national boundaries, drawing people from all over the world to partake in this spiritually enriching experience.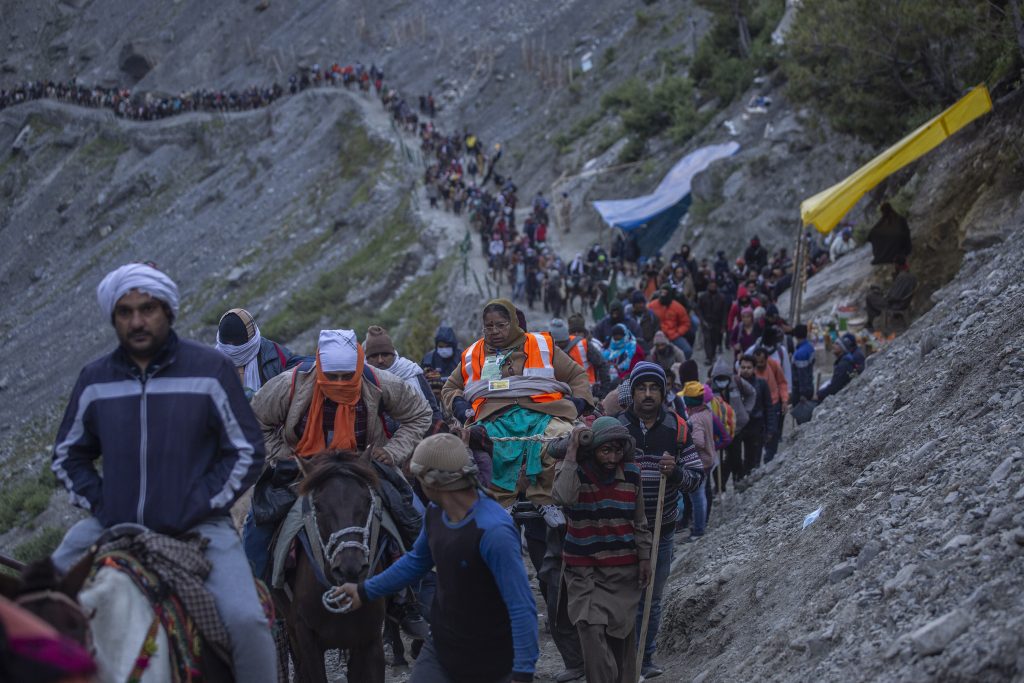 The pilgrims have wholeheartedly lauded the administration's tireless efforts in ensuring a smooth and hassle-free journey. The efficient organization of the Yatra has provided them with a sense of comfort and security, fostering an environment of gratitude and admiration.
Additionally, the Yatra coincided with the commemoration of Kargil Diwas at all Yatra Base Camps, wherein the triumph of the Kargil War was honored. The event saw active participation from various security departments, including the Army, CRPF, Police, NDRF, SDRF, Civil Administration, and Yatries, further strengthening the bond between the armed forces and the civilian population. The Yatra served as an opportunity to pay tribute to the valiant soldiers who sacrificed their lives in the defense of the nation.
As the Amarnath Yatra-2023 continues to witness an ever-growing number of devotees and garners widespread praise for its well-organized arrangements, it stands as a shining example of communal harmony, unity, and devotion. This sacred journey transcends geographical boundaries, bringing people from all walks of life together in a shared spirit of oneness and reverence.
In conclusion, the Amarnath Yatra-2023 has not only surpassed the previous year's numbers but has also touched the hearts of countless devotees, leaving an indelible impression of unity, spirituality, and appreciation for the administration's meticulous efforts. The Yatra remains a cherished experience for all pilgrims and continues to inspire a sense of reverence and devotion in the hearts of those who undertake this sacred expedition.