Inspects ongoing works at new 50 bedded hospital
BY KS NEWS DESK
PAHALGAM, JULY 13: Advisor to Lieutenant Governor, Rajeev Rai Bhatnagar today visited Sub-District hospital (SDH) Pahalgam and reviewed functioning as well as facilities being provided to the public there. Advisor Bhatnagar visits SDH Pahalgam, reviews its functioning, healthcare facilities
Accompanied by a team of officials from the Health Department and officers of other line departments, Advisor Bhatnagar assessed the existing facilities at the hospital and took firsthand appraisal of all the healthcare facilities being provided to the public.
During the visit, Advisor Bhatnagar took a detailed tour of the hospital and inspected all its sections. He meticulously examined the infrastructure, medical equipment, and patient care services in the hospital and engaged in constructive deliberations with doctors, nurses, and other medical professionals for improving the healthcare system in the hospital.
The Advisor also interacted with patients and attendants during the visit, and took onspot review of all the facilities being provided to them.
While interacting with the doctors and para Medical staff, the Advisor emphasized on providing comprehensive healthcare services to the people as well as the visitors owing the importance of Pahalgam as a favourable tourist destination. He also stressed on availability of quality medicines and other health care equipments in view of the ongoing Shri Amarnathji Yatra.
The Advisor on the occasion commended that doctors and staff for their relentless efforts to provide quality healthcare services to the people here. He also noted the suggestions and requirements of the doctors and para medical staff there and gave on spot directions for the same.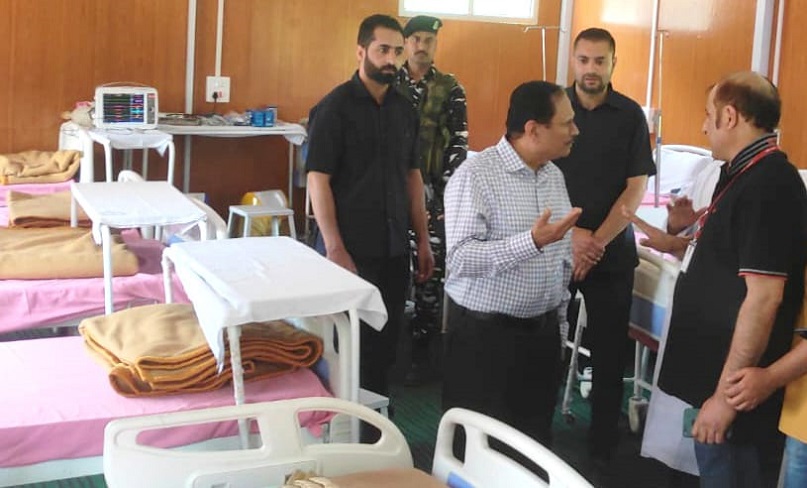 Meanwhile, Advisor Bhatnagar also inspected ongoing construction works at new 50 bedded hospital.
The purpose of the visit was to assess the progress of the construction works and ensure adherence to the stipulated timelines and quality standards. The Advisor closely inspected the ongoing construction activities and directed the executing agency to leave no stone unturned in completing the project within the stipulated timeframe.
While interacting with the officers of executing agency on the occasion, Advisor Bhatnagar emphasized on the government's commitment to ensuring accessible and high-quality healthcare services for all citizens of J&K. He reiterated that the new 50-bedded hospital would significantly enhance healthcare facilities in Pahalgam and adjoining areas by providing state-of-the-art infrastructure and comprehensive medical services to the locals as well as visitors.