BY KS NEWS DESK
Srinagar, June 24: In a collaborative effort to provide comprehensive care for individuals affected by Hemophilia, Intas Foundation Srinagar, in association with Government Medical College Srinagar (GMC) organized a specialized physiotherapy camp at the Hemophilia Day Care Centre, located within the premises of SMHS Hospital in Srinagar. Special Physiotherapy camp organised for Hemophilia patients
Dr Zahoor Ah Wani, Senior Physiotherapist, GMC Srinagar, Medical Officers Dr Sarwat Muzaffar, Dr. Abida, Dr Fahmeeda, and Dr Asifa, and Dr Mir Sadaqat, Consultant Hematology of Hemophilia Day care Centre SMHS, and members of Intas were present on the occasion.
The event was aimed to raise awareness about this rare bleeding disorder while offering essential physiotherapy services to Hemophilia patients. The Hemophilia Day Care Centre served as an ideal venue for this camp, being a recognized facility catering to the needs of Hemophilia patients in the region.
Divulging information about disease, Dr. Zahoor wani said that Hemophilia is a genetic disorder that affects the blood's ability to clot, leading to prolonged bleeding and potential complications. Physiotherapy plays a crucial role in managing Hemophilia, helping patients improve joint mobility, reduce pain, and enhance overall physical well-being.
Providing personalized care to the patients, the professional physiotherapist assessed the patients' specific needs and devised customized physiotherapy programs, which included exercises, manual therapy, and education on self-care techniques, Dr Sadaqat said.
Patients were guided on appropriate exercises to strengthen muscles, improve joint stability, and prevent injury. The physiotherapists also emphasized the significance of maintaining an active lifestyle while taking necessary precautions, Sadaqat added.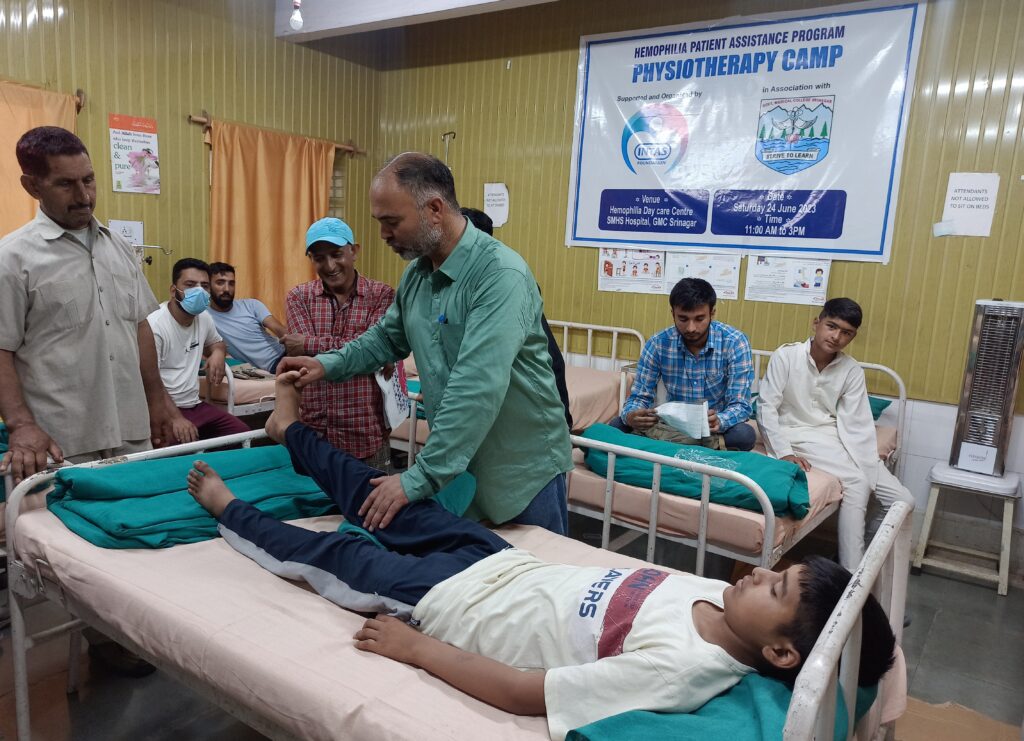 Dr. Saqadat lauded the collaborative effort and stressed the importance of such initiatives in enhancing patient care. He said, "Collaborations between organizations and medical institutions are vital to ensure comprehensive care for patients with rare disorders like Hemophilia. We appreciate Intas Foundation's commitment to making a positive impact on the lives of Hemophilia patients and look forward to future collaborations for the betterment of healthcare."
Tanveer Ahmad Project Associate of Intas Foundation Srinagar, expressed his gratitude to Government Medical College Srinagar for their support in making this camp possible. He stated, "We are committed to improving the quality of life for individuals affected by Hemophilia. By organizing this physiotherapy camp, we aim to empower patients with the knowledge and skills to manage their condition effectively. We are thankful to the dedicated physiotherapists who volunteered their time and expertise to provide specialized care to the patients."
Recognizing the importance of regular exercise in managing Hemophilia and promoting physical well-being, Intas Foundation provided specialized exercise equipment to the patients. The distribution of these resources aimed to enable Hemophilia patients to continue their rehabilitation and exercise routines in the comfort of their homes.