Calls for coordinated efforts, timely measures to eliminate MR
BY KS NEWS DESK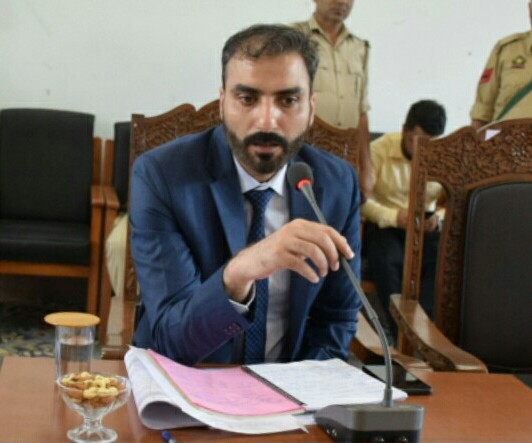 PULWAMA, JUNE 05: In order to further pace up the progress towards Measles & Rubella (MR) Elimination in the district, a meeting of District Task Force (DTF) on MR Elimination was today held under the chairmanship of the Deputy Commissioner (DC) Pulwama, Dr Basharat Qayoom at Conference Hall of DC Office Complex, here. DC Pulwama chairs Task Force meeting for MR Elimination
During the meeting, threadbare deliberations were held with regard to implementation of a road map formulated by the Government for Measles, Rubella Elimination from the Country by 2023. An Action Plan for achieving strategic objectives for Measles & Rubella Elimination also came under discussion.
On the occasion, the DC urged the senior Health functionaries of the district to take all possible measures with focused attention in unison with ICDS and Education departments to identify the dropout cases in the district besides immunization process for MR Elimination.
The DC further stressed on better management of Universal Immunization programme and Surveillance activities to achieve the target in stipulated time. He urged the Officers to adopt multipronged interventions to identify the target at the right time to arrest the disease.
With regard to reporting of Measles cases in adults, the DC asked the Officers to examine the matter seriously to prevent the spread of the disease in the district.
He also highlighted the importance of acquiring complete knowledge about the preventive measures of Measles-Rubella disease, and asked the officers to identify the target groups, conduct surveys and go ahead with concrete plans to achieve the results as set by the Government.
He further asked them to put in a committed effort in order to achieve the objective of the campaign i.e to rapidly build up immunity for both Measles and Rubella diseases and ensure that all the children should receive MR vaccine during the campaign.
Earlier, through a PowerPoint presentation, the DIO gave a detailed overview about the present status and progress achieved in the District under Measles-Rubella Elimination programme.
ACD Pulwama, Chief Medical Officer Pulwama, District Immunization Officer Pulwama, Block Medical Officers of Pampore/ Pulwama/ Tral/ Rajpora, EO's of all Municipalities of Pulwama, DAC, DMEIO, DMEO, VCCM were also present in the meeting.