By Chasfeeda Shah
Jammu and Kashmir is expecting the arrival of six to eight lakh Amarnathji Yatris this year. To cater to the huge arrival, the Union government and the J&K administration have made extraordinary arrangements for the smooth conduct of the pilgrimage. Men and sophisticated machinery have been placed at the disposal of Shri Amarnathji Shrine Board (SASB) which organises the testing pilgrimage deep into the Valleys of south Kashmir. 
The pilgrimage resumed fully on June 30 after a gap of three years owing to the abrogation of Article 370 in 2019 when the yatra was cut short and the Covid-19 pandemic-induced lockdown in the next two years. This year, the pilgrimage will last for 43 days, starting with the auspicious occasion of Skanda- Sashi and end on 11th August 2022, the day of Sharvan Purnima or Raksha Bandhan.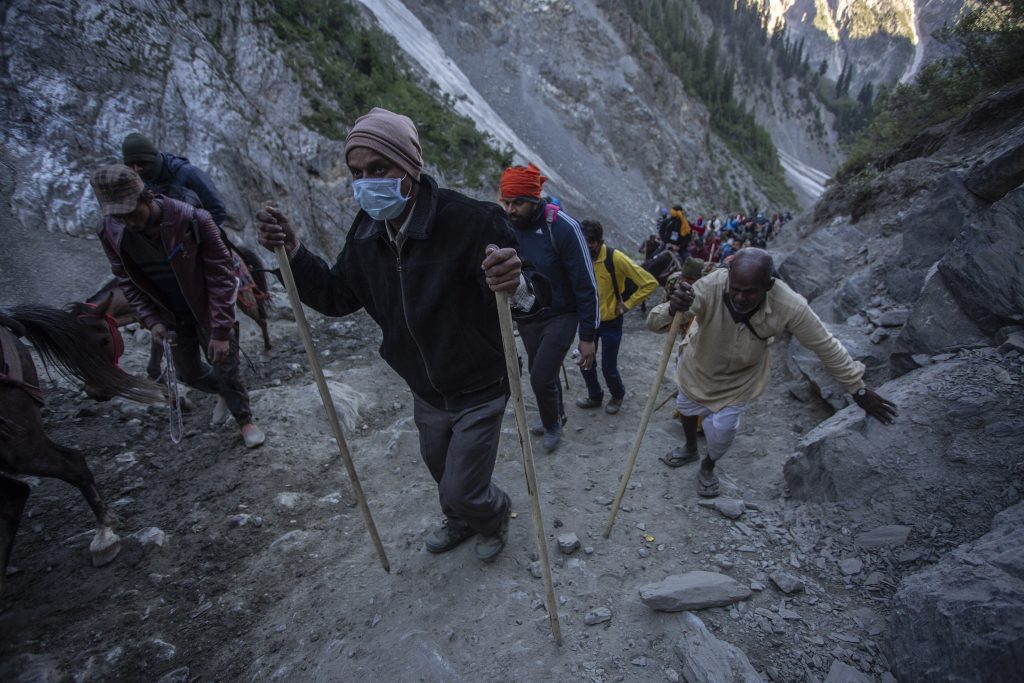 The enchanting Amarnath cave is one of the most revered pilgrimage sites of Hindus. Situated at the height of 12,756 feet above sea level and surrounded by Lidder and Sindh valleys, the cave shrine is considered one of the holiest shrines of Lord Shiva. Interestingly, it was discovered by a Muslim from Anantnag who remained its custodian till 2005.
The pilgrimage is also one of the most challenging in northern India. The devotees trek on difficult trails through daunting mountains to reach the cave shrine. The phenomenon of the formation of Shivling from the melting of ice from the roof of the cave to the floor is perhaps unprecedented in the whole universe. This miracle is sufficient to attract Hindus all around the world to pay obeisance at the cave shrine.
This year, the shrine board has upgraded the facilities along the twin routes to the cave shrine. Be it the issue of transportation of pilgrims, boarding and lodging, healthcare, telecommunication or food, all the facilities have undergone a massive upgrade. The pilgrims who have already paid obeisance at the shrine are all praise for the commendable efforts of the J&K administration in ensuring a comfortable pilgrimage for the devotees.
Amarnath Yatra, which is organised on the ground mainly by Kashmiri Muslims (who work all kinds of odd jobs like porters and ponywallahs) is an example of Kashmir's pluralistic ethos and communal harmony. It illustrates the religious brotherhood that has prevailed and survived in Kashmir despite all the odds. It is a powerful symbol of peace.