"FASTEST GROWING E-SOCIAL WORKER"
By Ajaz Rashid
Ulfat Rafiq, who is just 19 years old, has contributed to society at a young age. She is the fastest-growing YouTuber/blogger who often publishes motivational videos highlighting social issues.
She has started her online blogs lately. Within a short span, she has got an enormous appreciation for her work, and the felicitation by Lt Governor Manoj Sinha has been one of the biggest so far.
"I have received many appreciation awards before, but I got encouraged when I was nominated for 'Kashmir Young Leadership Award'," she said.  
A group of eight girls who are students are at the forefront of social work and help poor people. They have not approached any government or non-government agency for help. Instead, they are helping people from their own pockets.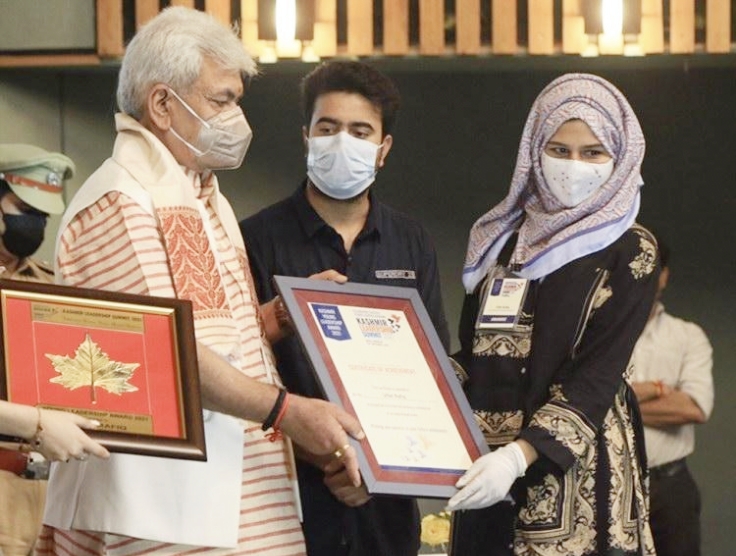 "We in our group, namely "Struggle for Peace" contribute to poor and needy people from our pockets, and we have an aim to make Kashmir better whichever way we can," said Ulfat.
Ulfat, 19, hails from a small village Majgam of Baramulla district. She has done her schooling from a neighbouring village Gantmulla, Bonyar, and after that, she did a diploma in Civil Engineering from Polytechnic College Gogji Bagh, Srinagar.
"Our group, 'Struggle for Peace', contributes to help poor and needy. We have an aim to make Kashmir better" 

Ulfat Rafiq,
She is the youngest among seven siblings. Apart from blogging and social media, the group' Struggle for Peace" organise social events for people's counselling, especially to eradicate the drug menace from society. She with her group played a significant role during the COVID pandemic by participating in relief work. 
Any welfare work is not a cakewalk for the people, especially for females. According to Ulfat, people often ask them to explain their social work and they feel more answerable than males.
"People ask us about our work, and we never find a smooth path for this noble cause," she said, "We wish that other people in the society should understand the meaning of social work and should also come forward."
Ulfat is much inspired by celebrity turned social worker Sana Khan. She follows the work done by Sana Khan for the welfare of people and wants to go in that way.
"If we are doing satisfactory work for the needy and poor with our pocket money, then imagine what the people with greater resources can do for the betterment of society," Ulfat said.