In Kashmir's strife-hit economy, the avenues of employment are negligible and patriarchy rules the roost. Despite odds, Shafia Shafi, a young artist, is slugging it out, both offline and online, for building an enterprise. A Kashmir Scan interview.
By Ajaz Rashid
KS) Please introduce yourself to our readers.
SS) My name is Shafia Shafi. I am 26-years-old and I completed my Masters in 2019. I live in Srinagar's Lal Bazar. My maternal home was also at Lal Bazar but they shifted to Kanitar
A month after I was born, my mother met with a horrible accident that kept me away from her. During that time, my maternal aunts looked after me and I stayed with them for an extended period of my life.
I returned to my father's house when I was in 8th standard.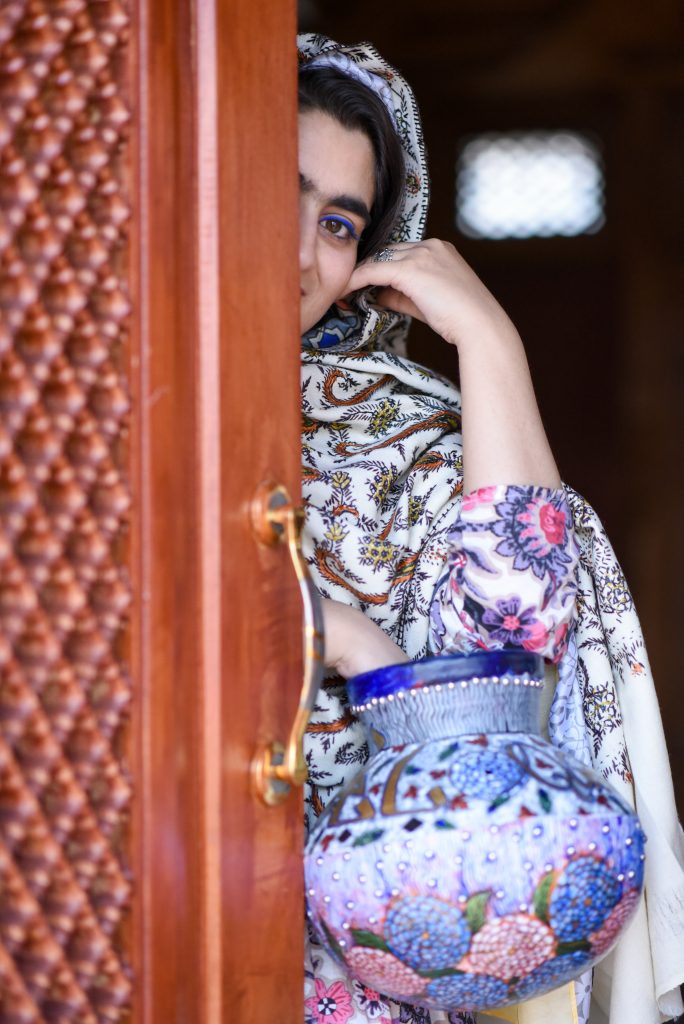 KS) How would you like to describe yourself?
SS) I am a very simple human who loves to travel and spread smiles. Only if I had words to describe myself I would have never created what I create.
I have done my schooling at Green Valley Educational Institution. I was quite a lonely child since childhood stayed away from my parents at my maternal home.
I always loved the painting classes during school but never did the work that my teacher asked for. It always depended on my mood. Hardly had I known back then that I would be creating and painting for the rest of my life. Nothing was planned. I completed +2 in the non-medical stream and then shifted to arts, studying psychology and literature and finally did masters in psychology from Kashmir University.
When it comes to describing me, I look at the works I created. That's where my existence is!
The creative ideas and the urge of creating something new every day gives me sleepless nights and that's what keeps me going.
KS) What kind of artist are you?
SS) I do not consider myself an "artist". I believe there is a long way to go, but yes, I am more into self-portraits where my work is centred on the story of a girl expressing how she feels and grows and goes through a world like ours. My inability to express myself to others was the reason for how it all started. So I kind of started with self-portraits and now I am into different mediums like murals, paper machie, calligraphy, abstracts and resin. I am exploring as I am growing. Being called the first female mural artist of Kashmir gives me immense pleasure, and I feel so proud of myself. And being a self-taught artist adds to the proud feeling.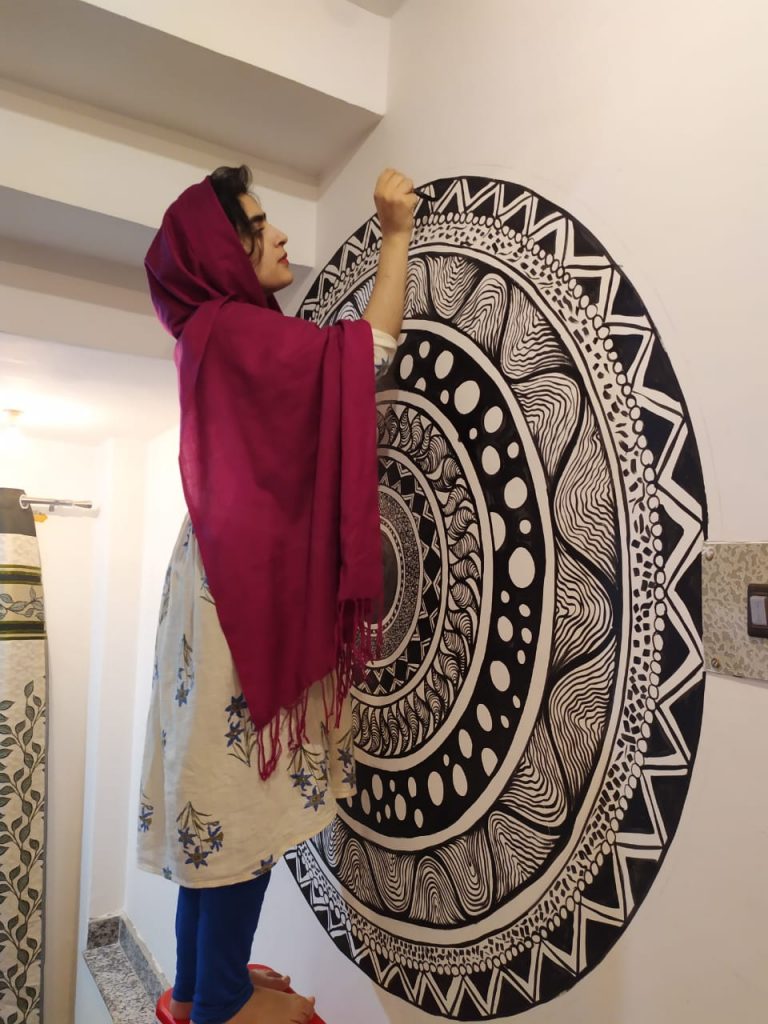 KS) You have mentioned on your page that you are self-taught. What does that mean?
SS) I would more appropriately say that I am self-learned than taught. I never intended to learn something like this and I believe the way I see my work. Things like these cannot be taught to any person in the world, and when I say that, I do not mean the lines and strokes that go into creating an artwork. Art is something else for me. It's a feeling and an emotion that I don't find words for.
So when I say I am a self-learner, I mean life made me recognise something that was already there inside my heart and soul, and the tragedies of life just acted as a guiding lamp towards the same.
Life made me recognise something that was already there inside my heart and the tragedies of life acted as a guiding lamp.
KS) What made you jump into this field?
SS) Nothing made me jump, first of all. It was not a sudden decision. My initial works originated from the pain my heart was not strong enough to bear. I was badly looking for a vent. I hoped and I found it when I poured that feeling out on my canvas. After a couple of years, my work took a professional shape when I felt mentally ready for the same. So it was not at all a sudden jump into money, fame and field. It all came from the heart.
KS) How did you adapt yourself to such a challenging environment?
SS) To adapt where every other person on social media is an 'artist' is quite disheartening. For me, my work was never challenging, but yes, the trolls you face on social media, the people who copy your work and sell it at lower prices, are a big blow to hard workers like me. But then again, I know I can do wonders, and that's what keeps me going. The creative ideas and this urge of creating something new every day give me sleepless nights and that's what keeps me going.
I don't even find anything challenging. I believe I am a strong person, and I do wonder when under pressure! (Just like the diamonds)
KS) Is art your hobby or profession?
SS) Art was never my hobby, but now it's my profession. I am a freelance artist and an art instructor in a school. It feels amazing to have something like this as a profession because I get to meet many amazing people around – kids I teach and my clients. This definitely moulds me into a better person every next day, trying to create something unique and amazing every day. Alhamdulillah for that!
KS) Who is your inspiration?
SS) I always say that life has been my biggest inspiration and always will be. I had no role model to look up to. It was always me and my life. The way my life went on. It always revolved around me. I am my biggest inspiration and I am so proud of it.
KS) What are your future plans?
SS) For the future, I picture myself sitting in my art studio. I am totally immersed in the work I do. Who wouldn't love that? I hope the picture turns to reality someday. Rest, I am trying to create something new every time. I also want to work on a bigger mural project. I am always up for that.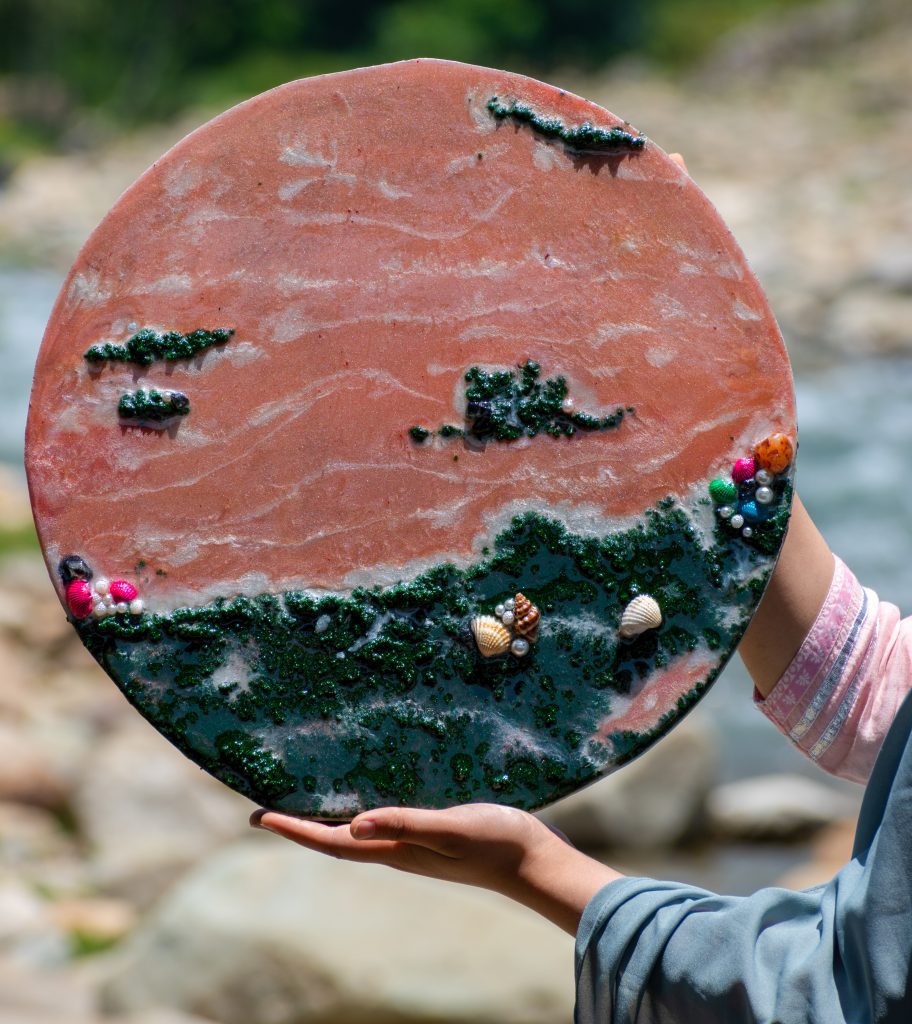 KS) Do people appreciate your work?
SS) People do appreciate my work. However, I get mixed responses, not because the work I do is good enough or wrong but because of being a girl running a successful art venture in a male-dominated society that some people can hardly absorb.
Also, some people who are coward enough to show jealousy on their faces help themselves by creating fake accounts to leave a negative comment on my posts creates a fuss at times. Other than that, people are quite supportive n appreciative of what I do.
KS) Which art or product made by you got the maximum appreciation?
SS) I guess all products which I create get a fantastic response from people because I try to create something unique for every client. But people do like my murals a lot maybe because it has a lot of fresh ideas, which is nothing but originality. They also appreciate it because they find it amazing that a girl is doing something like this because it needs a lot of physical strength.
KS) How difficult is this field for a woman?
SS) If a woman is strong-headed and courageous enough, it's not a tough choice! And when it comes to my experience, I would say I was not at all a strong girl initially, but again, life teaches you a lot and there's no way me backing off now!
KS) What kind of problems and challenges have you faced in this field?
SS) Challenges are there. To mention a few, some people neither respect the work nor the artist. Each work of art is not just a piece created but a bit of the heart and soul of that person. So little respect would never hurt. Sadly some people are not humane enough to understand that.
Then comes the "artist" who creates just by copying and just for fame and money. That's no less than poison to the piousness!
KS) Are you repeating the existing art or you have made some changes?
SS) I usually create new art pieces. But yes, when it comes to paper machie and calligraphy, that definitely has the touch of traditional and a blend of fusion – modern traditional fusion. I believe tradition has its charm which can never be denied, but I try to preserve tradition in a modern way.
KS) Suppose God will allow you with a wish. What would it be?
SS) (Laughs) I am content with what I have achieved, but if I ever get to ask for anything, I would want to be a trained violinist. I will also ask for a Matt black violin. That's not much. Just little fantasy things. And yes I will wish to taste all the yummiest food around the globe.
KS) What is your message for people and especially new aspiring artists?
SS) I don't have any. I hardly advise people on what they should or should not do.