First Time In JKP's History Ashok, Kirti And Shaurya Chakras Awarded To Force Together; DGP Congratulates Awardees
Srinagar: 'Due recognition of valour and sacrifices of Jammu and Kashmir Police officers and personnel', this was stated by the Director General of Police J&K Dilbag Singh on the announcement of service and gallantry medals by the Ministry of Home Affairs, Ministry of Defence and Administration of Jammu & Kashmir on the occasion of 75th Independence Day.
The DGP J&K expressed his gratitude to Home Minister Amit Shah, Lt. Governor of J&K Manoj Sinha, Union Home Secretary Ajay Kumar Bhalla for due recognition of valour and sacrifices of Jammu and Kashmir officers/personnel for awarding the highest ever number of Service and Gallantry medals on the eve of 75th Independence Day, a statement quoted him as saying. He has congratulated the awardees and J&K Police Pariwar for this unprecedented feat.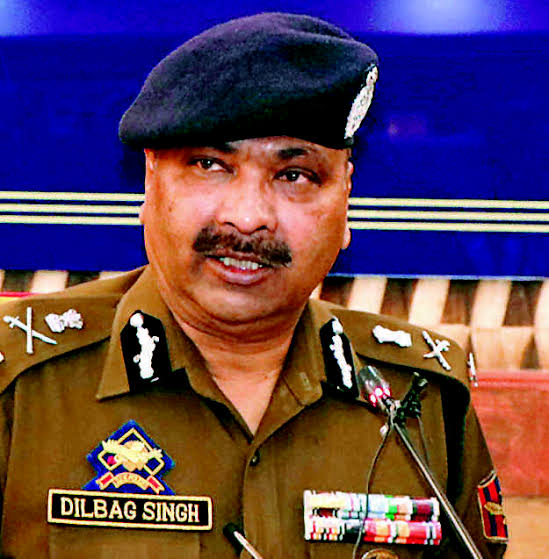 "DGP has paid rich tributes to the fallen heroes, ASI Babu Ram, Constable Mohd Altaf Hussain and SPO Shahbaz Ahmad of JKP who brought honour and glory to the force in their sacrifice and service to the nation for which Ministry of Defence has awarded Country's highest peacetime honour, Ashok Chakra to Martyr ASI Babu Ram who made supreme sacrifice during an assault against holed up (militants) at Pantha Chowk last year, Kirti Chakra to Constable Mohd. Altaf Hussain who sacrificed his life while saving the life of a Protected Person who was attacked by (militants) in Ganderbal and Shauriya Chakra to SPO Shahbaz Ahmad who has been awarded for his gallant action against terrorists in an counter-terrorist operation at Khrew, Awantipora last year."
The DGP has conveyed his congratulations to the awardees of other State Police Forces and CAPFs especially the ones working shoulder to shoulder with JKP on this occasion.
J&K Police has been bestowed highest number of 275 service, and gallantry medals announced by Ministry of Home Affairs on this Independence Day. The medals include 01 Presidents Police Medal for Gallantry (PPMG) out of 02 in the country, 256 Police Medal for Gallantry (PMG) out of total 628 medals in the country, 02 for Presidents Police Medal for Distinguished Service (PPMDS), & 16 Police Medal for Meritorious Medals (PMMS).
The Police personnel who have been awarded Presidents Police Medal for Distinguished Service (PPMDS) are SP Shri Pran Nath Pandith, DySp Shri Syed Sajad Hussain. The Police personnel who have been awarded Police Medal for Meritorious Medals (PMMS) are SSP Shri Shiv Kumar Sharma, SSP Shri Javid Hassan Bhat, SSP Shri Mohd Sharief Chouhan, SSP Shri Amit Bhasin, SSP Shri Tanveer Jeelani, SP Smt Rajni Sharma, DySp Shri Jeetan Ji Mattoo, Inspector Shri Taran Singh, Inspector Shri Bandeshwar Singh Manhas, Inspector Shri Amit Kumar Koul, Sub Inspector Shri Prem Krishan Kathua, Sub Inspector Shri Manzoor Ahmad Khan, ASI Shri Gajinder Singh, HC Shri Manmohan Ganjoo, SgCt Shri Anil Kumar, and SgCt Shri Nayeem Nadeem Bhat. (GNS)