Srinagar: Inspector General of Police (IGP) Kashmir Vijay Kumar said that 78 militants have been killed this year so far in various encounters. "Of 78 total militants killed, 39 belonged to LeT followed by HM, Al-Badr, JeM and AuGH," he said.
The statement came from IGP Kashmir after today's encounter that broke out between militants and security forces in Syedpora area of Srinagar City in which two unidentified militants were killed.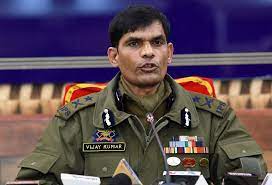 According to police reports, two unidentified militants were killed in an encounter that broke in the wee hours at Alamdar Colony, Syedpora area of district Srinagar.
"Joint team of Police and CRPF had launched a Cordon and Search Operation (CASO) in the area after receiving credible inputs about the presence of militants in the area," the official said.
Police sources said that the identification of the slain militants is being ascertained. More details are awaited.