Discount offers at peak shopping season are customer friendly and simultaneously boost our business: Shaykh Shoukat
The wedding shoppers are seen largely in search of better deals. And as usual in this season once again shoppers have a great opportunity for the best deals in furniture and furnishings in the town at their favourite store of Saheb International. Saheb International, a sister concern of Saheb Group has showcased their favourite offer for wedding shoppers popularly known as "Marriage Offer". Talking to Kashmir Scan, the Managing Director of the Saheb Group Shaykh Shaukat said "it is a privilege to showcase our popularly known "Marriage offer Season 2020". "This year we have introduced a better version of a modern crafted straight-line design Queen size Low Height Wooden bed with Box Storage available in three fashion-in colours, Dark Walnut, Oak, Natural Wood, and with combo offer one Kurlon Mattress and complete RECRON Reliance Washable Quilt Set with Two Pillows just @39,990/= inclusive of all taxes. And other products are available with great discounts and offer's," Shaukat added.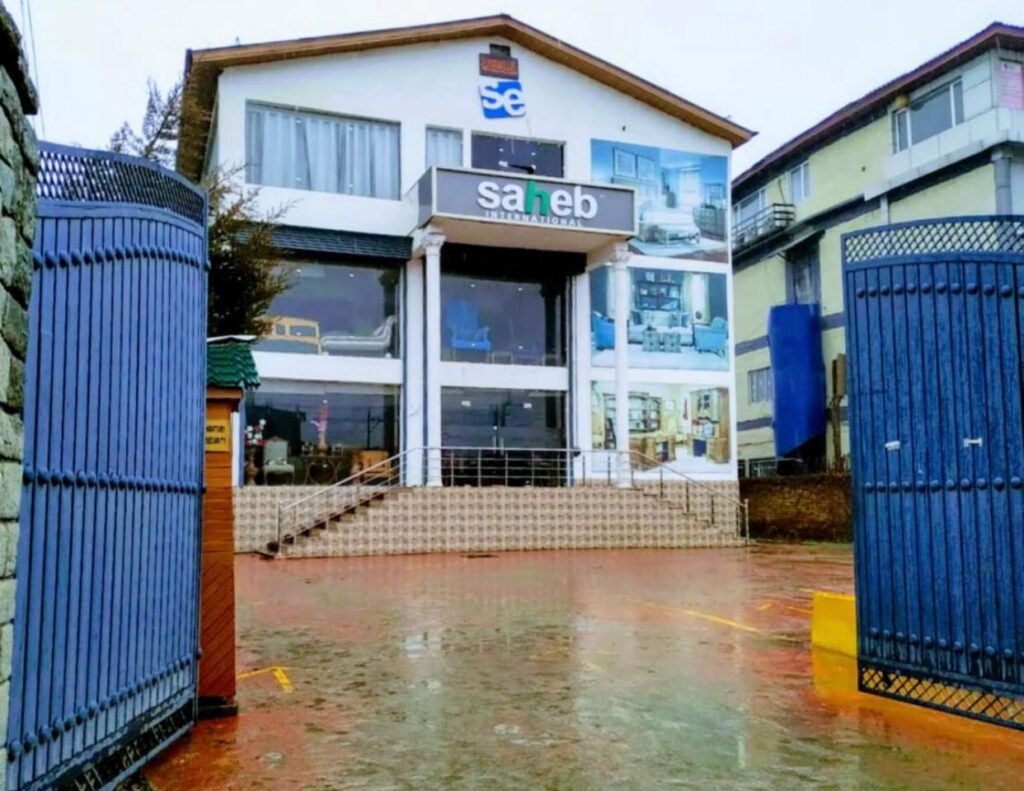 Saheb International has become a reputed brand of Kashmir. Be it a small bedroom chair to full complex furniture Job "Saheb International" has made its mark at n every home and institution. Usually, companies offer discounts and other offers in offseason, but Saheb International is continuously offering best deals in peak shopping time which seems to do a very different market strategy. When asked to Shaykh Shaukat about this unique art of selling products, he said: "There is a lot of skepticism about offering products at a discount, but our business strategy is long term and we have proven it by offering occasional products at the time of occasions with great discounts offers, and by this way of approach in selling quality products we have succeeded to boost our sales."
Giving details about the timing of discount offers Shaykh Mukhtar, the CEO of Saheb International and Director Finance of the Saheb Group said that customers are inherently drawn towards items on sale. Given two products that are practically similar in terms of features, consumers would almost always choose the item that costs less. "For our discount promotion to work, we make sure that there is no compromise in terms of quality of the product. It is always tough to offer discounts on the peak season because this is the time when companies make handsome profits, but our approach is unique and customer-friendly," Mukhtar said and added "we like to increase the footfall by offering genuine discounts on occasional products which attract customers to buy our products. We make sure to advertise our sale offer in a transparent way and emphasizing the discount rates for a specific time and our staff ensures a great customer service during increase rush."
Shaykh Mukhtar further said that by doing this unique art of selling they have increased their sales and customer footfall. "Shoppers like to walk around our store and see other items that may not be discounted but are willing to buy those because they have already saved on other items on sale," he said.
"Given the seasonal fluctuations in consumer buying behaviour, we are also successful in curbing lean seasons by offering discounts. This way, we are able to meet our goals within every period regardless of any untoward happenings in the valley," he added.
Expressing their satisfaction over buyer-seller relationship Mukhtar said "Once consumers have tested our products, this can lead to repeat business and also generate positive word of mouth".
"Providing a short term incentive to our customers will not hurt our bottom line. In fact, these occasional discounts can help strengthen your customer loyalty and widen your market. As long as you offer high-quality products and provide great customer service, you can be assured that your business will go a long way," Shaykh Mukhtar said.
(Advertorial by Saheb International, the concern of Saheb Group, Saheb Complex Hyderpora Bypass)